Get the Best Currency Exchange Rates in Edmonton
The YEG International Airport makes Edmonton a hot spot for travelling abroad. If you plan on taking a trip outside of Canada, you may wish to have foreign currency on hand to make purchases easier. So, where can you exchange CAD for foreign funds?
At KnightsbridgeFX, we offer one of the simplest currency exchange services in Canada at an exceptionally low rate. But how does our service work for your needs?
Calculate Your Savings
How Our Service Works: Edmonton Currency Exchange
If you'd like to conduct currency exchange in Edmonton, we're here to help. At KnightsbridgeFX, we've helped Canadians exchange over 2 billion dollars over our 14 years in operation, and we'd like to assist you as well.
To enlist our services, follow the steps below to book your transaction:
Step 1: Get a Quote
Trusting your hard-earned money with a financial service can be daunting, so it's important to eliminate any surprises regarding how much you'll be spending.
Therefore, we're happy to provide our potential clients with a free quote for the amount of money they would like to transfer before booking their transaction.
To receive a quote, phone us at 1-877-355-5239, and one of our customer service agents will fulfill the request.
Note that you are under no obligation to use our services after requesting and receiving a quote.
Step 2: Book Your Transaction
If you wish to proceed after reviewing your quoted exchange rate, you can book your transaction.
When you fill out the transaction form, confirm the exchange rate you were quoted, and we will email you a trade confirmation receipt.
This receipt will reiterate the details of your transfer before it's processed so you know exactly how much you should expect to receive after the exchange rate is applied to your funds.
Step 3: Complete the Transfer
Once you've confirmed the details of your transaction, you can complete the booking by sending your funds via bank transfer or an online bill payment.
Don't worry about whether your bank will qualify - our service is compatible with all Canadian banks!
Use our savings calculator to see how much you can save on your next transaction
Take advantage of the best exchange rates when buying US real estate, moving to another country, sending money to family, and paying foreign tuition.
Free same-day transfers, no hidden fees and professional service.
Our converter uses mid-market rates. The rate is subject to change.
Lock your exchange rate
100% Security of Funds
When choosing which service to use for foreign exchange in Edmonton, you'll want to select a company that you can trust to keep your funds safe.
At KnightsbridgeFX, your money is 100% secure - our services are regulated and monitored by a Canadian Government agency called FINTRAC, an initiative that prevents fraudsters from intercepting financial transactions.
Open a FREE Account and Start Saving
How to Conduct Currency Exchange In Edmonton
There are a variety of places where Albertans can complete their money exchanges in Edmonton. However, if you've never exchanged CAD for foreign funds, you may not be quite sure where to look.
Here are some places Edmontonians can have their currency exchanged:
Edmonton International Airport (YEG) currency exchange services

Hotel money transfer services

Currency exchange kiosks

Bank foreign exchange services

Currency exchange brokers
All of the options listed above are perfectly viable for foreign currency exchange in Edmonton and will allow you to receive your currency within a reasonable timeframe. However, if your focus is to save money in the process, your best option is to work with a currency exchange broker.
If you choose to exchange your funds at a kiosk or through the bank, you may end up being charged a high rate of 2-3%.
However, at KnightsbridgeFX, our brokers guarantee the lowest exchange rates in Canada, only charging half a percentage of your transfer. This is particularly beneficial for larger transactions ($5,000+).
Lower rates of exchange are ideal for Edmontonians who conduct business matters abroad, own property in other countries, pay international student fees, and more. 
Stop overpaying with your bank on foreign exchange
We are built to beat bank exchange rates and save you money
Get started
Knightsbridge Foreign Exchange is registered and regulated by FINTRAC (a government of Canada agency). Like most financial institutions, we are required to validate the identity of all clients. We have strict measures in place to protect your privacy.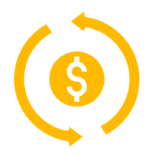 The Benefits of Using Knightsbridge Foreign Exchange
At KnightsbridgeFX, we ensure that we provide the best exchange rate, as we charge 2.5% less than all Canadian banks. In fact, we contact the banks regularly to analyze our different rates to ensure ours are still the lowest available.
n addition to receiving exceptionally low rates, our clients can receive other benefits by using our service, such as the following:
Security

We regulate our service through FINTRAC to ensure the protection of consumer funds from fraudsters. We also retain a $1,000,000 safety net to safeguard against any potential losses.

Quick Delivery

If clients complete their transaction before their bank's cut-off time, they'll receive their funds on the same day (otherwise, no later than the following day).

Transparency

We send all of our clients a confirmation of their exchange rate to ensure they're fully aware of all fees and deductions before we process their funds.

Convenience

Registration and booking only take a few minutes to complete, and our service is compatible with all Canadian banking institutions.

Quality Customer Service

We offer streamlined assistance to ensure our clients receive their funds quickly, and we provide friendly customer service via our toll-free number.
Exchange smarter
Get the Best Money Exchange Rate In Edmonton
Since 2009, KnightsbridgeFX has helped over 130,000 Canadians successfully convert and transfer their CAD into foreign currency, and we'd love to help you do the same.
If you'd like to receive the best currency exchange in Edmonton, you can enlist our services by contacting us over the phone. Once you speak to a customer service agent, we'll send you a free quote and go over the next steps of the process.
You can reach us at the following telephone numbers:
Toll-Free: (1-877)-355-5239
Edmonton Office: (587) 405-4049
You can also visit our Edmonton location at the following address:
Rice Howard Place
Scotia 1, 10050 Jasper Ave #2020
Edmonton, AB
T5J 3R8
Why Choose KnightsbridgeFX for Currency Exchange in Edmonton?
Banks often fall short when it comes to services like foreign exchange. Their first goal is to make money, which means customers end up paying high fees at a no-so-great exchange rate to keep the bank from paying high operational costs.
At KnightsbridgeFX, however, our focus is to provide our clients with the lowest rates available, at 2.5% lower than any Canadian bank.
If you ...
Are moving to the US
Hold investments in US real estate
Own a business that imports and exports goods to the US regularly
Are paying international student tuition fees
Traveling abroad long-term
...Then our system is the ideal choice for exchanging Canadian and US currency.
Frequently Asked Questions
1

Tell me about Knightsbridge Foreign Exchange's Best Rate Guarantee.

2

What is the minimum amount I can exchange?

3

Tell me more about the security of funds.

4

Why don't you show your rates online?

5

Can I pay with physical cash, cheque, or bank draft?

6

How can you get an exchange rate better than what banks offer?

7

Why banks allow you to use them when you are a competitor?

8

How do I register as a Corporation?