Get the Best Currency Exchange Rates in Vancouver
With Vancouver Island right next to the U.S., many residents of Southern BC regularly exchange their CAD for USD so they can take a trip across the border with sufficient funds. If you plan on visiting the United States, perhaps you're wondering how to exchange your Canadian income for foreign currency.
At Knightsbridge Foreign Exchange, not only can we help you exchange your CAD for foreign funds quickly and efficiently, but at the lowest exchange rate currently available. Take a look at how our service operates below.
Calculate Your Savings
How Our Service Works: Vancouver Foreign Exchange
Over 2 billion Canadian dollars have been exchanged successfully at KnightsbridgeFX. Need a way to do currency exchange in Vancouver? Recruit our help by following these steps:
Step 1: Get a Quote
It's always a good idea to familiarize yourself with a new service before committing, especially when it involves a financial transaction. Therefore, we're pleased to offer you a free quote for the amount of money you would like to exchange before you book your transaction.
If you would like to receive a quote, phone us at 1-877-355-5239, and one of our friendly customer service agents will complete the request.
Note that there is no commitment to use our services after requesting a quote. We completely understand if you decide not to move forward.
Step 2: Book Your Transaction
If you would like to proceed with our services after reviewing the rate, the next step is to book your transaction. Simply confirm the exchange rate you were provided via your quote, and we'll send you the receipt.
The confirmation receipt will restate the details of your transfer before it's processed so you know how much money you'll receive after the transaction is complete.
Step 3: Complete the Transfer
Once you've confirmed the details, the last step is to send your money either online or in a bank transfer.
Note that you can complete your currency exchange in Vancouver with any local bank, as our service is integrated with all banks across Canada.
Use our savings calculator to see how much you can save on your next transaction
Take advantage of the best exchange rates when buying US real estate, moving to another country, sending money to family, and paying foreign tuition.
Free same-day transfers, no hidden fees and professional service.
Our converter uses mid-market rates. The rate is subject to change.
Lock your exchange rate
Your Funds Are Completely Secure
Choosing the right service for Vancouver currency exchange comes down to who you can trust to look after your money.
At KnightsbridgeFX, you don't have to worry about the safety of your funds – our services are regulated by the FINTRAC Agency, a Canadian government initiative focused on guarding transactions from interceptions and criminal activity.
Open a FREE Account and Start Saving
How to Conduct Currency Exchange In Vancouver
Foreign Exchange in Vancouver is a competitive market, so it's important to do accurate research to ensure you're choosing the best service for your financial needs.
There are a variety of ways to conduct foreign exchange:
Vancouver International Airport currency exchange services

Hotel money transfer services or kiosks

Bank services

Exchange brokers
Each of the options listed is valid and safe, however, they may not be the greatest options if you want to avoid extra fees and keep your hard-earned money in your pocket. Your money will be exchanged successfully, but you may get hit with high fees.
In contrast, our foreign exchange brokers at KnightsbridgeFX are tasked with locating the lowest exchange rates available in Canada, especially for larger transactions ($5,000 and over).
Most banks will charge 2-3% for currency conversion but we charge less than 1% of your funds. At a 0.5% fee rate, you can send more without spending more. 
These lower rates are ideal for international business and property owners, families, students and more. 
Stop overpaying with your bank on foreign exchange
We are built to beat bank exchange rates and save you money
Get started
Knightsbridge Foreign Exchange is registered and regulated by FINTRAC (a government of Canada agency). Like most financial institutions, we are required to validate the identity of all clients. We have strict measures in place to protect your privacy.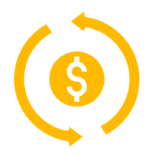 Why Use Knightsbridge Foreign Exchange?
At Knightsbridge, we ensure that we provide the best exchange rate. In fact, we contact the banks countrywide on a regular basis to ensure our rates are still the lowest available.
We don't only have low rates, our clients can receive other benefits by using our service, such as:
Security

FINTRAC regulates our service to safeguard against fraud. We also have a $1,000,000 safety reservoir for enhanced consumer protection.

Quick Delivery

Customers will receive their funds on the same day that they process their transaction, provided they do so before their bank closes for the day.

Transparency

Customers don't have to worry about any hidden deductions on their transfer balance – we always send confirmations prior to processing funds.

Convenience

Registration and booking in minutes. And enjoy the ease of completing your transaction at any Canadian bank.

Quality Customer Service

We provide quick and easy assistance to ensure our clients receive their funds as soon as possible.
Exchange Smarter
Get the Best Money Exchange Rate In Vancouver
We've helped Canadian consumers exchange their funds for almost 15 years. During this time, we've successfully helped thousands of customers convert their money. Let us help you send more.
If you'd like to utilize our services and receive the best currency exchange in Vancouver, you can contact us via phone to obtain a quote.
Call either of these numbers for assistance:
Toll-Free: (1-877)-355-5239
Vancouver Office: (604) 229-1065
You can also visit our Vancouver office in person or mail via the following address:
1285 W Broadway #600
Vancouver, BC
V6H 3X8
Why Choose KnightsbridgeFX for Currency Exchange in Vancouver?
While banks are essential services and help us protect our finances, when it comes to extended services like foreign exchange, they don't typically have the best rates. The first goal for all banks is to make money, meaning customers will often pay over-inflated rates so the bank can avoid paying high operation fees.
However, by choosing KnightsbridgeFX for foreign exchange in Vancouver, you'll receive rates up to 2.5% lower than any Canadian bank will provide.
If you ...
Are moving to the US
Hold investments in US real estate
Own a business that imports and exports goods to the US regularly
Are paying international student tuition fees
Traveling abroad long-term
...Then our system is the ideal choice for exchanging Canadian and US currency.
Frequently Asked Questions
1

Tell me about Knightsbridge Foreign Exchange's Best Rate Guarantee.

2

What is the minimum amount I can exchange?

3

Tell me more about the security of funds.

4

Why don't you show your rates online?

5

Can I pay with physical cash, cheque, or bank draft?

6

How can you get an exchange rate better than what banks offer?

7

Why banks allow you to use them when you are a competitor?

8

How do I register as a Corporation?