Guaranteed to Beat Most Rates for Currency Exchange in Montreal
If you need to exchange your Canadian currency for foreign funds, your first instinct may be to conduct this exchange through the bank. However, if you're concerned about having to pay high interest rates, you may be looking for a more inexpensive option.
Our team at KnightsbridgeFX is here to help, as we offer the best currency exchange in Montreal for converting foreign funds. But how does our service work?
Calculate Your Savings
How Our Service Works
Quebecois residents have many options for currency exchange in Montreal. However, when selecting a service to handle your hard-earned money, you should choose one you can trust. Therefore, it's important to know how your chosen service works before taking the dive.
At KnightsbridgeFX, our brokers have managed to help fellow Canadians trade and exchange over 2 billion dollars in foreign funds. But how? Let's examine the process below:
Step 1: Get a Quote
We believe that full transparency about how much you'll be spending and receiving is vital before signing on to our services. Therefore, we are happy to provide a free quote for potential customers before they make a transaction request.
If you'd like to receive a quote, you can phone us at 1-877-355-5239, and one of our customer service representatives will be happy to assist you.
Please note that there is no obligation to use our services after making this request.
Step 2: Book Your Transaction
If you're satisfied with the quote you've received and would like to move forward, the next step is to book your transaction through our website.
On the transaction form, fill out the sum of money stated on the quote you received from us and confirm that you would like to transfer the stated balance into the foreign income of your choice.
After filling out the form, you'll be sent a confirmation receipt restating the details of the transfer to ensure you're fully aware of how much money you'll receive.
Note that the transaction will not be processed until you confirm and approve the details of your receipt.
Step 3: Complete the Transfer
Once you've reviewed and approved your confirmation receipt, you can complete the transfer by sending your funds via bank transfer or online bill payment.
Don't worry about which bank you go through – our service is fully compatible with all Canadian and Quebec-based banks.
Once your transaction is complete, you will receive your funds either the same day or the day following the completed transfer.
Use our savings calculator to see how much you can save on your next transaction
Take advantage of the best exchange rates when buying US real estate, moving to another country, sending money to family, and paying foreign tuition.
Free same-day transfers, no hidden fees and professional service.
Our converter uses mid-market rates. The rate is subject to change.
Lock your exchange rate
Your Funds Are 100% Secure
When you transfer your CAD into foreign funds with KnightsbridgeFX, you can rest assured that your money is in safe hands.
Our service is regulated through FINTRAC, a Canadian agency that has protective measures in place to prevent fraudsters from intercepting money transfers.
Open An Account Today - 100% FREE
Where to Conduct Currency Exchange in Montreal
Residents of Montreal and the surrounding area have access to a variety of money exchange services. Some places where you can conduct Montreal currency exchange are as follows:
Montreal-Pierre Elliott Trudeau Airport kiosks

Hotel exchange kiosks

Quebecois and Canadian banking institutions

Currency exchange brokers
All of the options listed above are reputable, but if you want to save money and avoid paying higher interest rates, your best option would be to enlist the services of a currency exchange broker.
By working with a broker at KnightsbridgeFX, you'll be provided with the lowest interest rate available, which will be especially ideal for customers with large transaction volumes ($5,000+).
These low rates are ideal for Montreal-based business owners who conduct operations in the U.S. and other foreign countries. 
Our low costs are fantastic for international students currently residing in Montreal, those who own properties in the United States, and others who have to conduct similar bulk transactions regularly. 
Stop overpaying with your bank on foreign exchange
We are built to beat bank exchange rates and save you money
Get started
Knightsbridge Foreign Exchange is registered and regulated by FINTRAC (a government of Canada agency). Like most financial institutions, we are required to validate the identity of all clients. We have strict measures in place to protect your privacy.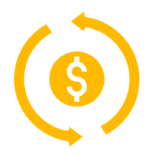 Benefits of Exchanging Currency with KnightsbridgeFX
In addition to our exceptionally low rates, there are many other benefits to be derived by using KnightsbridgeFX for currency exchange. Some of these advantages are as follows:
Security

KnightsbridgeFX is securely regulated by FINTRAC. We also provide a $1,000,000 safety net for enhanced protection of consumer funds.

Quick Delivery

You'll receive your money transfer on the same day you complete the transaction, provided you do so before your bank's cut-off time.

Transparency

You'll receive a detailed transfer receipt before finalizing the transaction to ensure you're fully aware of the charges – no hidden fees or confusion.

Convenience

Registration and booking only take a few minutes to complete, and our service is compatible with all Canadian and Quebecois banks.

Quality Customer Service

Our transaction service is fast and efficient, and if customers need additional help, they can receive friendly assistance via our toll-free number.
Take Charge of Your Funds
Get the Best Exchange Rate in Montreal with KnightsbridgeFX
If you need to conduct foreign exchange in Montreal, our team at KnightsbridgeFX would be pleased to assist you.
We've managed to help over one hundred thousand of our fellow Canadian and Quebecois residents complete foreign money transfers since 2009, offering the best rates in the country.
To contact us via telephone, call:
Montreal Office: (514) 613-0393
Toll-Free: (1-877)-355-5239
To visit us in person, we've listed the address details for our Montreal office below:
1200 McGill College Ave #1100
Montreal, Quebec
H3B 4G7
Why Should You Choose KnightsbridgeFX for Currency Exchange in Montreal?
For residents of Montreal, finding a reasonably low foreign exchange rate can be difficult, as it's the main job of banks and financial institutions to make money at little cost on their end.
However, at KnightsbridgeFX, our focus is on providing our customers with an exchange rate that benefits them – 2.5% lower than most banks in Montreal.
In fact, we regularly contact the banks to analyze our differing interest rates to ensure we're still offering the lowest possible option.
If you ...
Are moving to the US
Hold investments in US real estate
Own a business that imports and exports goods to the US regularly
Are paying international student tuition fees
Traveling abroad long-term
...Then our system is the ideal choice for exchanging Canadian and US currency.
Frequently Asked Questions
1

Tell me about Knightsbridge Foreign Exchange's Best Rate Guarantee.

2

What is the minimum amount I can exchange?

3

Tell me more about the security of funds.

4

Why don't you show your rates online?

5

Can I pay with physical cash, cheque, or bank draft?

6

How can you get an exchange rate better than what banks offer?

7

Why banks allow you to use them when you are a competitor?

8

How do I register as a Corporation?